In addition to providing acclaimed online photography and post-production tutorials, Chromasia Training also provides face-to-face and online photography workshops and post-production training for groups and individuals at numerous locations around the world. You can find out more about our forthcoming workshops and training events below, see what our students thought about some of our recent events on this page, and find out more about our previous events here.
All Workshops and Events
Face-to-Face
Online Training
| | |
| --- | --- |
| 24th—25th September 2016: Blackpool, UK | Price: £195.00 |
click here for further details
show the original
Join David in Blackpool on the 24th and 25th of September for one of his most popular workshops, Creating Dramatic Images, a two-day intensive workshop that will provide you with the skills you need to dramatically improve both your photography and post-production. It will focus on:
How to optimise your initial exposures.
How to visualise a scene in terms of its postproduction.
How to think through the changes that are needed to create a dramatic image.
Which post-production tools and techniques you need to use to realise your creative vision.
During this two day workshop you will explore each of these topics in turn, concentrating on developing the skills your need in order to create stunning and dramatic images of your own.
| | | |
| --- | --- | --- |
| | October 2016 (Four-week online class) | Price: US $109.00 |
click here for further details
'The Art of Black & White Photography: ASSIGNMENTS' is an intensive and hands-on four week online course, designed to be taken alongside (or after) The Art of Black and White Photog­raphy on Udemy.
Sign up now, and over the next four weeks you will learn how to improve and refine your black and white photography and post-production skills: skills that will enable you to produce truly unique and compelling black and white images.
You will:
Work through four key assignments, one each week.
Receive detailed and informative critiques on your assignment images.
Join your fellow students for four live webinars.
| | |
| --- | --- |
| 13th—16th October 2016: Venice, Italy | Price: €975.00 |
click here for further details
Join us on a magical three day photo tour to explore the wonders of historical Venice.
We will stay in the 800 year old Pensione Guerrato, just a few meters from the majestic Grand Canal and historic Rialto Market, and just five minutes walk from the Rialto Bridge.
During the three days of this photo tour you will shoot sunrise at San Marco, capture sunset and the blue hour on the Grand Canal from the famous Ponte dell'Accademia Bridge, wander the brightly coloured canals and piazzas on the Island of Burano, find hidden churches and create a range of atmospheric after-dark images in the ancient Venetian Cálli.
A trip to Venice wouldn't be complete without a chance to sample authentic Venetian cuisine and local wine, so on Friday evening David and Fabio will be delighted to take you to dinner at one of their favourite local restaurants.
| | |
| --- | --- |
| 21st—26th February 2017: Venice, Italy | Price: €2,695.00 |
click here for further details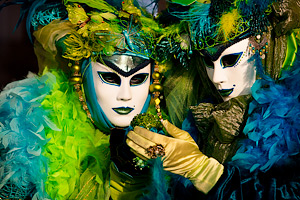 Come to the Venice Carnival and capture the color and pageantry in this superb five-day, six-night Photo Tour! The Carnival, in beautiful and romantic Venice, is one of the most colorful, historical, and visually exciting festivals in the world, with its origins dating back to the twelfth century. It is typified by the elaborate masks and costumes worn by the thousands of participants who attend this annual event in the days leading up to Shrove Tuesday.
In February 2017, Bobbi Lane and David Nightingale, assisted by Venice-based photographer Fabio Thian, will be leading a small group of students on a dynamic photo tour of this fabulous carnival: providing an incredible opportunity to photograph this unique event with two respected and dedicated photography educators who will provide you with a wealth of individual instruction and attention.
If you're interested in finding out more about this exciting photo tour, including further details about the locations, what you should expect, and what you need to bring along, please click the following link:
| | |
| --- | --- |
| Available online (1.5K students) | Price: $149.00 |
click here for further details
The Art of Black and White Photography is one of David's most popular courses, with thousands of subscribers across multiple platforms. Also available on Udemy (see below), we're now offering this course on chromasia too.
In just over five and a half hours of video, split into 16 individual lectures, you will learn:
How to use a wide range of powerful and flexible tools and techniques to convert your images to black and white.
How to blend conversion techniques and selectively alter the tonal range and contrast of your images.
How to create stunning black and white portraits.
How to add unique and compelling tones to your black and white images.
You will also be able to download all the video lecturers, notes, and images, so you'll be able to work alongside David as he teaches you a broad range of powerful and flexible tools and techniques.
| | |
| --- | --- |
| Available for download | Price: US $129.00 |
click here for further details
show the original
If you missed David's Dramatic Post-Production workshop for Creative Live on the 7th–9th October you can now download the video for all three days for just $149.00.
If you're not familiar with creativeLIVE you can find out more on their about page and blog.
If you'd like to find out more about other creativeLIVE workshops and events take a look at their Course Catalog and Calendar: there's some great workshops coming up!
Previous Workshops and Events
Full details regarding our previous workshops and events can be found here.
To Be Confirmed
We are currently working towards providing photography workshops and training events in: Egypt, Hong Kong/China, Transylvania, Bulgaria, and Italy. If you would like us to run an event in a location not listed, or think you could help us arrange one, please contact Libby with your suggestions.
Contact Us
If you have any questions about any of the information on our training pages, or there's anything else you would like to ask, please contact David or Libby for further details.